Do You Know Her? We're Sure You Do!
  -  sponsored by Always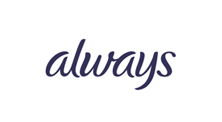 Always® Wants you to Nominate Your Favorite Mother, Daughter, Friend to 'Ring In' the Start

. . . . . . . . . . . . . . . . . . . . . . . . . . . . . . . . . . . . . . . . . . . . . . . . . .
For the first time in race history, a hundred special women and girls will be on stage at the starting line to send off the runners and the walkers.
Do you know that woman who is always involved in something — making a difference in her community and the lives she touches? She radiates an inner charisma. She's deeply good. She always makes you feel funny and valued. You often catch her looking after other people and inspiring them with her extraordinary strength, bravery and perseverance. She is the one who goes the extra mile to help make life better for others.
She's the one we want you to nominate to join 99 other woman to celebrate the official start of this year's 108th event.
No other race in the world celebrates women and girls like Cincinnati's Western & Southern Thanksgiving Day 10k Walk/Run.
The exciting new feature of the race is sponsored by Always, a P&G product that empowers women to live life without limits through trusted feminine care products and confidence and puberty education.
Nominate that special woman or girl during online registration for the event.

Honorees will be chosen by a selection committee.