2016 Thanksgiving Day 10K High-Tech Shirt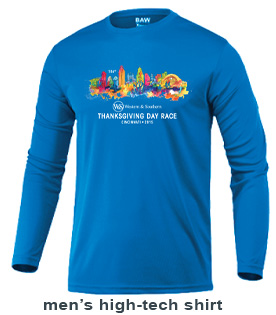 Hot-Diggity: Cool T-shirts
Stand out! Not Still
Women's and Men's Style and Size
We call it the "cool factor!" It's the hot new shirt for 2016; and this year we've got you covered with both the men's and women's sizing and cut. You will look sooooooooo good in a high-tech, long sleeve limited edition shirt--- only $20 (retail $40)!
In fact, order more for Christmas gifts—and for you too!
Antibacterial treatment- It doesn't smell! (even if you do).
Dri-fit
UV Protection
Tagless
Make you run faster!
Sizing Chart: Unisex/Men's cut
Sizing Chart: Ladies cut
Wear it well and wear it often!